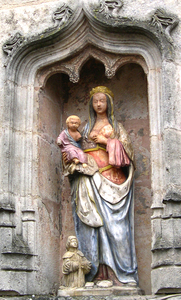 For many centuries, monks have been in the service of the beauty which leads to God. Since the Lord is to be praised as much by the celebration of the Divine office as by the work of the hands – a fortiori through religious art – Our Lady Help of Christians Workshop tries to raise hearts to God, by the realization of stone statues. Such work becomes prayer according to the word of the Psalmist: "Let the light of the Lord our God shine on us! Direct for our good the work of our hands" (PS 89, 17).
Creation, copy of traditional or old models, all religious subjects, from 40 cm to 1 m 50, by order. Hand-sculpted in natural stone frost-resistant. In general allow for a rather long delay, approximately 12 months.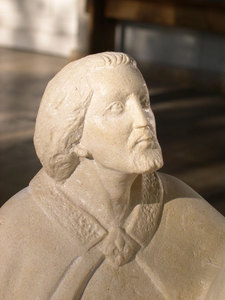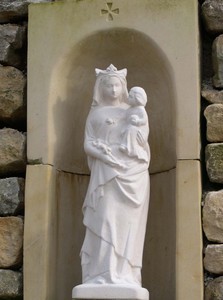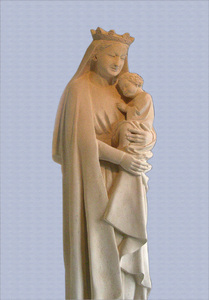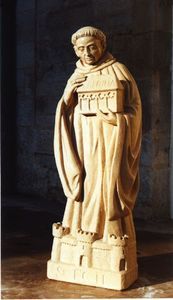 54 cm, made in Comblanchien marble, Burgundy. This is a copy of a statue of Henri Charlier (1883-1975). The original is carved in Pouillenay stone (1951) 1 m 70 and is located in Mesnil-Saint-Loup, near Troyes.
Our Lady of Sorrows and St. John at the foot of the Cross. Height 70 cm. White patina stone.
Approximate tariffs including all taxes, not including postage and handling.
For a height of:
0 m 30 : 800 €
0 m 40 : 1200 €
0 m 50 : 1350 €
0 m 75 : 2500 €
0 m 90 : 3750 €
1 m 10 : 4000 €
1 m 25 : 6000 €
1 m 50 : 8000 €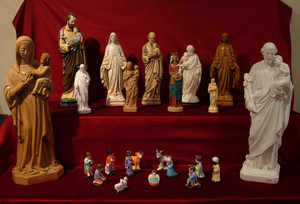 The workshop Our Lady Help of Christians proposes also small statues in plaster of the Most Blessed Virgin Mary, of Saint Joseph, various saints and cribs. These articles are available at our commercial site.