New Abbot Information
On May 8, 2020, Dom Jean-Bernard Marie Bories was elected as 3rd abbot of the abbey of Saint-Joseph de Clairval de Flavigny
Praying to Mary for France
On April 28, 2013, feast of Saint Louis Marie Grignion de Montfort, Father Abbot Dom Antoine Marie wrote a letter to encourage people of good will to pray to Mary for France, especially the rosary, in these difficult times that saw the eldest daughter of the Church.
You will find this letter, to make known around you, on our website at the following address: Praying Mary for France
Prayer dictated by Jesus to Marcel Van:
Lord Jesus,
Have compassion on France,
Deign to embrace her in your love
And show her all your tenderness.
Make sure that, filled with love for you,
She helps to make you loved
By all the nations of the earth.
O love of Jesus,
Here we make a commitment
To remain faithful to you forever and To
Work with a fiery heart
To spread your kingdom
Throughout the universe.
Amen.
Before teaching this prayer to Marcel Van, Jesus told him: "Little child of my Love, listen, I am going to dictate a prayer to you, and this prayer, I want the French to recite it to me. "
After teaching him this prayer, Jesus added: "O my child, tell the French that this prayer is the very one I want to hear from them. It came out of my heart burning with love and I want the French to be the only ones to recite it. As for you, my child, I want you to recite it too, but you will also recite it in French. "
About Marcel Van, you can consult the following link: Letter on Marcel Van
Practical information Access
Flavigny-sur-Ozerain is located in France in the department of Côte-d'Or (Burgundy), 60 km north-west of Dijon and 280 km south-east of Paris.
How to get to Flavigny?
By car: coming on the Paris-Lyon motorway, exit at Bierre-lès-Semur, then 22 km.
By train, stations of Les Laumes-Alésia (9 km) or Montbard (25 km). From the train station to the abbey, one may take a taxi (call: 06 85 70 10 97 (Christine AUVERT) or 06 75 75 24 73 (Thibault AUVERT)); taking into account the high cost of the taxi, it is advised to go to the station of Les Laumes-Alésia (and take, if needs be, the correspondence Montbard to Les Laumes).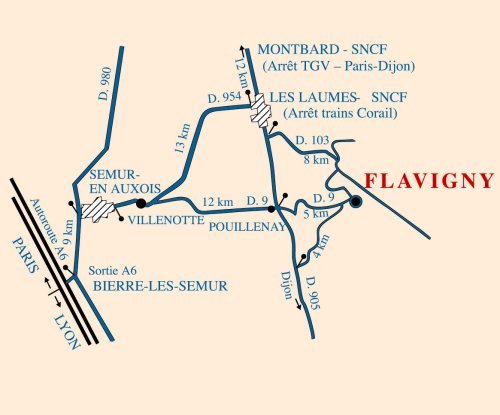 ---
Abbey Saint Joseph de Clairval
21150 FLAVIGNY SUR OZERAIN
France
Telephone: 33 3 80 96 22 31
Fax 33 3 80 96 25 29
Email