"The beauty and the color of the images stimulate my prayer. It is a festival for my eyes, as much as the spectacle of the countryside stimulates my heart to return glory to God." (Saint John Damascene)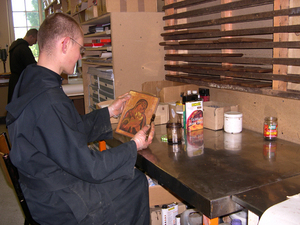 Saint Benedict considers that the monk must "live by the work of his hands". In this spirit, our workshop of "imagery on wood" was born in 1984…
Since this date, among the masterpieces of Christian art of the East and West which are admired in churches, museums or private collections, we chose and reproduce many examples.
These reproductions are assembled in various ways:
either on a wood panel. An easel makes for an ideal presentation of the image; it can be also suspended on the wall by means of a hook on the back.
or they are presented in diptychs (two panels) and triptychs (three articulated panels), suitable to be exposed on a piece of furniture or any surface.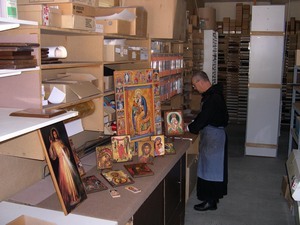 These reproductions, carried out with the greatest care, are at home in the "prayer corner" of your apartment, or, more simply, may decorate your house while bringing a note of Christian beauty there. They constitute also an original gift to celebrate your friends and your close relations.

New for the year 2020:
Icon of Mary, Mother of Consolation
Icon of Our Lady of Graces (Cotignac)
Icon of Our Lady of Graces with Saint Michael and Saint Bernard (Cotignac)
Icon of the Sacred Heart, arms extended, in color
Icon of saint Valentin